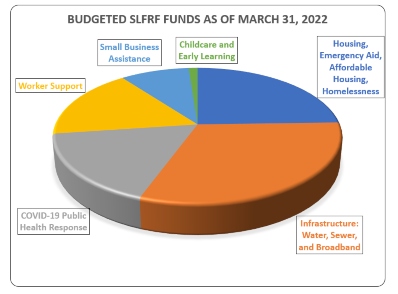 How are State and Local Fiscal Recovery Funds Being Used?
Treasury has recently released an overview[1] of trends in how governments are using State and Local Fiscal Recovery Funds (SLFRF) resources provided through the American Rescue Plan Act (ARPA). The data includes information reported in the Project and Expenditure reports that were due for all SLFRF recipients by April 30, 2022, for the period ending March 31, prior to when certain recipients began receiving their second tranche payments in May.
Expenditures through March 31, 2022, for State, Local, Territorial and Tribal Governments, as reported by Treasury, included:
| | | | |
| --- | --- | --- | --- |
| Category | Reported Funds Budgeted | Number of Governments Pursuing | Number of Projects Reported |
| Housing, Emergency Aid, Affordable Housing, Homelessness | $12.97 billion | 607 | 1,311 |
| Infrastructure: Water, Sewer, and Broadband | $16.42 billion | 2,412 | 5,182 |
| COVID-19 Public Health Response | $9.12 billion | 1,368 | 4,192 |
| Worker Support: Unemployment Aid, Job Training, Public Sector Workforce, Essential Worker Premium Pay | $8.95 billion | 1,716 | 2,752 |
| Small Business Assistance | $4.8 billion | 417 | 700 |
| Childcare and Early Learning | $617.9 million | 145 | 220 |
These amounts exclude funds used to provide government services that otherwise would have been paid for with revenue lost due to the pandemic (reported by over 25,000 governments) and uses of funds that are available only to states and territories. It makes sense that there are significantly more governments reporting provision of government services than governments reporting projects listed in the table above, because provision of government services is the most flexible of the expenditure categories. Depending on the extent of revenue loss, some governments are eligible to use their entire SLFRF allocation for provision of government services, if they so choose.
Treasury noted that:
As of March 31, 100% of total available first tranche funds were cumulatively budgeted by the largest metro cities and counties. This was up from the 83% reported in January.
Smaller recipients, with allocations less than $10 million and a majority with a population less than 50,000, reported a collective obligation of approximately three-quarters of their first tranche funds as of March 31.
Investments in affordable housing continue to grow, including both developing new housing and helping homeowners stay in their homes.
Recipients continue to make investments that focus on expanding the workforce, including training workers for in-demand careers, rehiring public workers, and providing more than $2.4 billion in premium pay to more than 900,000 eligible workers.
The funds budgeted for childcare and early learning grew more than 130% from January to April reporting.
Recipients have identified over 300 community violence intervention projects totaling more than $680 million.
Funds going to water and sewer projects nearly doubled compared to the previous reporting period, totaling $9.1 billion.
Recipients reported budgeting more than $7 billion for broadband projects through March 31.
One of the stated goals of the SLFRF program, in addition to fighting the pandemic and supporting families and businesses struggling with its impacts, and maintaining vital public services, is to provide governments with the resources needed to "Build a strong, resilient and equitable recovery by making investments that support long-term growth and opportunity." [2]
From MFR's perspective, of note is that water, sewer, and broadband infrastructure projects comprise 36% of the reported projects and 31% of the reported funds budgeted in the table above. The number of water, sewer and broadband projects increased by over 3,500, and the dollar value of projects increased by over $6 billion, since the December 31 reporting cycle. The Final Rule, issued in January 2022, broadened the eligible uses of funds for water and sewer projects and eligible broadband infrastructure investments.
We expect that the newly issued guidance broadening the eligible uses of funds for affordable housing projects[3] will increase projects in that area, going forward, as well.
There is also opportunity for governments to use SLFRF funds to leverage other federal funding, including funds available from the Bipartisan Infrastructure Law and other federal affordable housing programs.
[1] https://home.treasury.gov/system/files/136/April-2022-Quarterly-and-Annual-Reporting-Analysis-How-Governments-are-Addressing-Urgent-Needs.pdf
[2] https://home.treasury.gov/policy-issues/coronavirus/assistance-for-state-local-and-tribal-governments/state-and-local-fiscal-recovery-funds
[3] https://home.treasury.gov/news/press-releases/jy0889
MFR Consultants
Have questions about SLFRF compliance and reporting requirements? MFR can help. We'd love to hear from you! Get in touch with us here, or follow us: